Foreign Voice-Overs for all your Multimedia Products
We have a large number of professional actors and broadcasters covering a wide range of languages. Many of our voice-over artistes are experienced in lip-sync and presenting to camera. (Voice samples available on request).
ONE STOP SHOP – Leave it all to us:
Script translation by experienced script translators, who ensure the foreign version fits into the time available.
Sourcing of Voices –  Select the best voice for your production from the selection we send you. Or, if you prefer, we can source the voices according to your requirements (male /female, younger /older, deep /high pitched, authoritative /gentle etc).
Studio – Recordings take place at our state-of-the-art studio facilities in West London, overseen by sound technicians with many years' experience.
If you cannot attend recordings in person, we can arrange for you to listen in and participate.
Direction / Supervision of recordings by experienced personnel, ensuring a foreign version as close as possible in style and tone to the original.
Recordings edited and uploaded to you according to your instructions.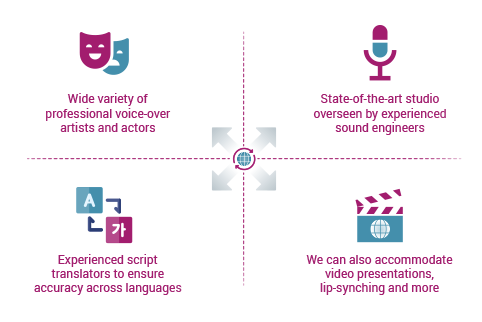 Let us take the headache out of your foreign language communications. Allow us to give you a cost estimate on any project and advise you how best to tackle it – our experience is at your disposal.
Fill out the form below and we will get back to your shortly with a quote